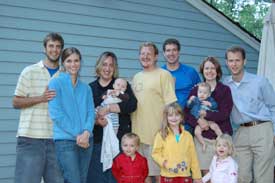 Affordable Lawn and Home Care was started in 1984 by Donald Bovey in Wheaton IL with the idea of putting his sons - Tim and Dan - through college. They did make it through college (while mowing thousands of lawns in the process) and became a college professor and pastor respectively. Since 2001, Donald's son Dan and his wife Jody have run the company out of both Wheaton and West Chicago IL. Affordable Lawn and Home Care offers the comprehensive services and stability typical of an established landscaping and snow removal company but retains the personality and individualized service of a family run business.
Our services include, commercial and residential lawn care, shrubs and tree services, landscaping installations (both hardscaping and softscaping), flower bed installation and maintenance, fertilizing and weed control, mulch installation, residential snow removal and snow and ice management for businesses. Our clientele has included residential accounts, retail businesses, restaurants, industrial accounts, churches, schools, apartments and town home associations. Affordable Lawn and Home care currently maintains properties in Wheaton, Glen Ellyn, West Chicago, Winfield, Warrenville, Carol Stream, parts of Lisle and parts of Bloomingdale. Installation work can be done throughout DuPage County.
We carry workman's comp and liability insurance consistent with industry standards. We are happy to provide documentation or references upon request. Our crews are knowledgeable, courteous, trustworthy and always happy to communicate with you or address any concerns you might have. Please contact us and one of the owners would be happy to speak with you further about our services.